In this season of thanksgiving, we wanted to take a moment to share with the world what we're thankful for here at AbleLight.
We are, of course, thankful for the people we serve and the many ways they bring purpose, light and joy to our lives. However, we're most thankful for our direct support professionals (DSPs) and all they do for the people we serve. They are our heart and soul. DSPs provide hands-on support for the people we serve. They plan activities, help with hygiene and encourage the people they serve to reach for their goals.
DSPs give up their holidays, including Thanksgiving and Christmas and many others because help with daily living doesn't stop for holidays. They prepare meals, including holiday meals, for those who aren't visiting family or have no family to visit.
We appreciate our DSPs. They're compassionate, hardworking, loving and committed to the people they serve. They're who we're most thankful for in this season of thanksgiving.
We couldn't do what we do without them.
DSP of the Year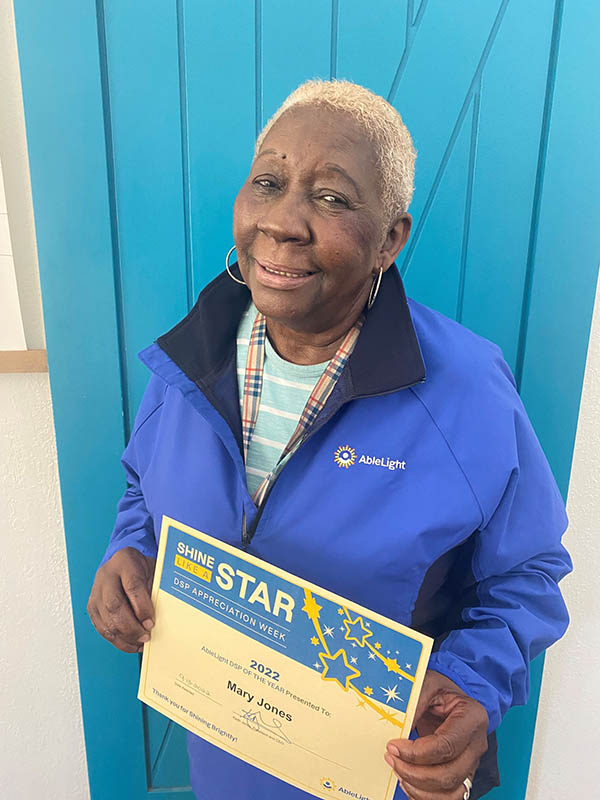 Although thanks are never enough, we continually work to recognize our DSPs for their commitment and contributions, big and small. Earlier this year, we recognized nine DSPs as DSP of the Year in their respective states.
From among them, we identified one DSP who really stands out. Meet AbleLight DSP of the Year Mary Jones and see why we're so thankful for her contributions.
Mary has worked in our California operations for the past six years, serving 12 individuals. She brings care, nurturing and excellence to her role and has built significant relationships with the people she serves and their families. Mary is the parent of a child with an intellectual disability and she's acutely aware of the responsibility and care people we serve require.
With Mary, the people she serves always come first. She knows them so well that she can find the right treat, reward or gift to motivate and encourage them, every time. She recently found a Captain America painting that was the perfect and most personal positive behavior reward for a man she serves.
Mary is a great teacher and role model for both coworkers and the people she serves. She does it all "with grace and a smile on her face," exemplifying excellence in her approach to serving people with disabilities. Thank you, Mary! We celebrate all you do for the people we serve.