A few weeks ago, we shared a post about celebrating Autism Acceptance Month. In that post, we mentioned the autism wheel—and we thought it was a topic worth spending more time on.
The autism wheel has become an accepted way of describing an individual's autistic experience and is replacing the concept of the spectrum—for some very good reasons. Let's get into it.
The spectrum
Spectrums are usually represented by a flat line with different values on each end. With autism, the values have typically been "low-functioning" on one end and "high-functioning" on the other. (Or, in other words, "more autistic" and "less autistic.") And an autistic person would be labeled somewhere along that spectrum as a way of describing their autism.
However, this is extremely limiting, and for a number of reasons. There's a saying in the autistic community that if you've met one autistic person, you've met one autistic person. High-functioning and low-functioning labels are dramatically oversimplified, and nothing so simple could ever accurately capture a person's unique needs and abilities.
In addition, these labels tend to use a very narrow definition of high- and low-functioning—and those definitions can be detrimental to autistics. For one thing, the definitions tend to be about how well a person can fit into neurotypical ideals. For instance, someone who is nonverbal may be labeled low-functioning and, as such, be dismissed without any recognition for their strengths and talents. And someone who has a job and an apartment may be seen as high-functioning, which can actually prevent them from getting supports they need, whether that be government programs or accommodations at school or in the workplace.
So, no. A spectrum simply won't do.
Introducing instead …
The autism wheel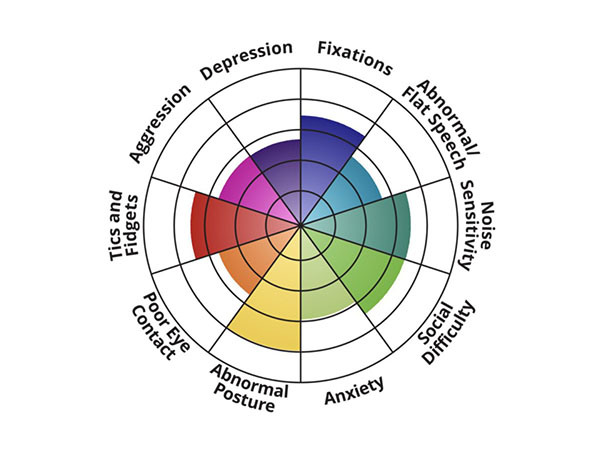 Aah. That's more like it.
While no graphic or tool could ever fully describe a person's experience, the autism wheel gives a much more in-depth way to understand the unique complexities and nuances at the individual level. And instead of focusing on external factors (i.e., how well a person fits into the neurotypical world), it allows autistic people to express their own autistic experience.
The autism wheel features a collection of potential autistic traits—things like sensory sensitivities, special interests, tics and fidgets (i.e., stimming), anxiety, social difficulties, and more—and lets each person express the degree to which they experience them.
For some, things like eye contact might be easy; for others, it might be deeply uncomfortable. Some autistics may experience a high degree of sensitivity to crowds or noisy environments, while others might thrive in a busy atmosphere. Some may engage in special interests, throwing themselves into research and collecting information or items relevant to their interest; others simply may not.
This also helps both autistics and those around them understand a person's unique needs better. Because, as we pointed out earlier, someone considered high-functioning may appear not to need as much support; however, when we look at that person's wheel, we may see they don't struggle in social situations (something others commonly but erroneously equate to "less autistic"), but they have significant difficulties with executive function, which can range from struggling with things like hygiene to difficulty switching tasks. This person is no more or less autistic than any other autistic person—they just need more support in some areas than in others.
Everyone's autism wheel will look a little different—and that's the way it's supposed to be. Because no two people are the same, and everyone's individual autistic experience should be recognized, celebrated, and supported.
The best way to learn about autism is from autistic people themselves. This list of autistic YouTubers is a great place to start.
At AbleLight, we offer services designed to help people with developmental disabilities thrive, including AbleLight College, supported living services, and employment supports. Because we believe the world shines brighter when everyone has the opportunity to reach their full potential.