What is AbleLight College?
AbleLight College is a unique two-year certificate program designed to meet the higher education goals of students with developmental disabilities. The program offers inclusive academics, community connections, campus life, career preparation, and more.
This school year, the AbleLight College curriculum was re-worked under several frameworks:
Our new framework for education was designed to align with all parts of the college experience – classroom instruction, social and community engagement, and employment experiences – to help students build a strong recognition of their own goals and talents.
Internship Program
Since adopting this framework, AbleLight College has introduced a new approach to developing job opportunities for our students. We are working to create unique opportunities that invest in our students as they think about life after they graduate.
Donor Stewardship Team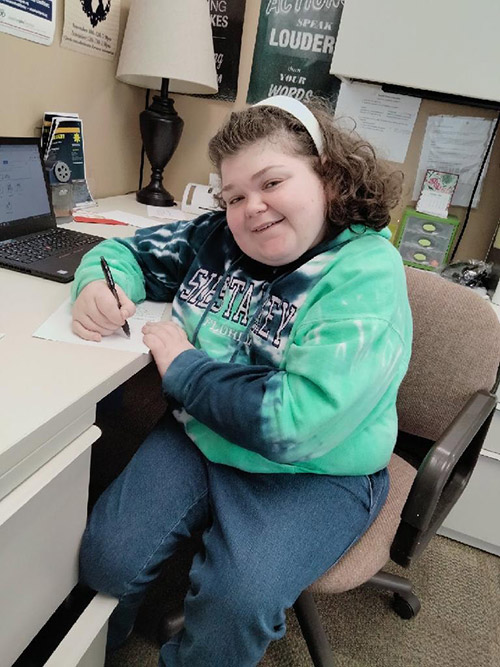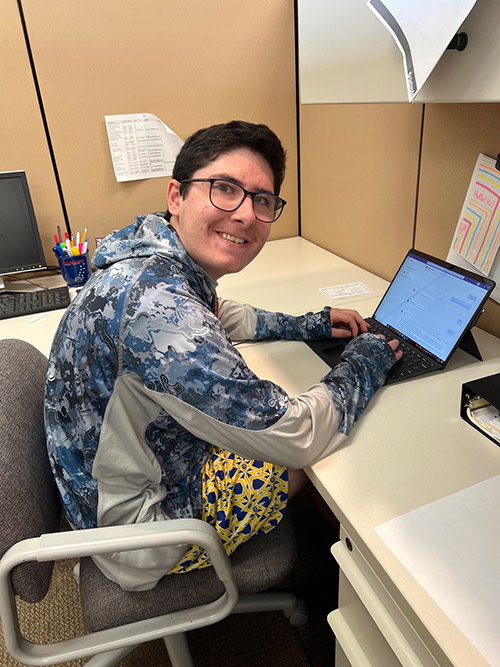 Molly and Griffin are students at AbleLight College that are now part of the Donor Stewardship Team at AbleLight. They joined as interns in the fall and have made such a great impact on the team!
Molly prepares handwritten thank you cards and sends them out to donors. She says, "I've learned a lot about business and marketing. That's what my major is, so I'm really honored that I got chosen for this job and I'm happy with my internship!"
Griffin's job is to engage in phone calls with donors and log notes from the call into the CRM. He prepares scripts and practices ahead of time with our development team to prepare. Griffin owns his own art and welding business, which he hopes to pursue after graduation!
Griffin and Molly both learned how to navigate our CRM, a tool that helps our organization manage relationships with volunteers and donors. This has been a great learning experience for both, and we are so lucky to have them on the team this year!
Marketing Team
As the program grows, we are developing more employment experiences for students in other areas of the organization. This semester, Emily and Nash will join the team as marketing interns! During this internship, they will help with interviewing staff and students, photography, writing stories, printing and distributing collateral, and more.
Third Year Fellowship Program
Starting in the fall of 2023, AbleLight College will offer a Fellowship Year for students who graduate from our 2-year program. This new program will allow students to:
Engage in next-level internship experiences that align with long-term career goals
Work with an advisor to create an independent study course unique to their needs
Audit Concordia University classes to continue individual education and career goals
Participate in varied simulations of real-life situations to enhance problem solving and planning
Continue to live in residence halls on campus and receive support with daily living skills
And much more!
We are very excited to offer this opportunity for students to maximize their experience at AbleLight College, and we can't wait to see what they'll do in the future!