Why AbleLight?
AbleLight unites two words that are uniquely important to our organization.
About our new name and logo

The name "Bethesda" has served this organization well for nearly a century. You may recall days gone by in which most Lutheran church congregants would have an instant idea of what Bethesda is and who it serves, by name alone. "Bethesda Sundays" were commonplace.
Yet as we looked at where we are today and where we need to go tomorrow, a few things became clear. Many people outside the Lutheran faithful didn't know what Bethesda was – there are other "Bethesda" organizations out there, including churches, a city in Maryland, and a computer gaming company. So much confusion! In fact, in the communities where we provide services there are more than 575 organizations that carry the name Bethesda!
To discern our path forward, we needed to consider the views of a variety of important stakeholders, including:
Present and future people supported, and their families
Our employees
Our current and prospective donors
Members of churches and faith communities
"Over the course of the last year, we connected with hundreds of individuals in these categories and asked what was important to them," said Cindy Moon-Mogush, Chief Marketing and Communications Officer. "For our longtime donors, a connection to faith was paramount. For donors we hope to join us in the future, making progress toward supporting the whole person was at the top." Balancing these valuable perspectives as our starting point, we undertook a thorough and thoughtful process to determine our new name and how we communicate more effectively. We considered our history and our plans for the future. From there, we identified and vetted a new name – AbleLight – from more than 1,000 choices. With approval of the Board of Directors, we moved forward with a rebranding process in earnest this past summer.
Our Logo: Celebrating past and present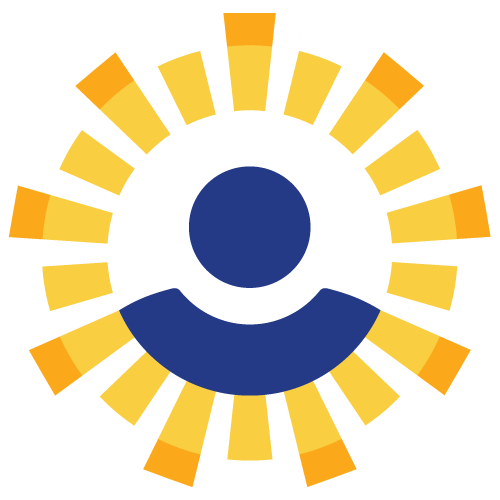 Second, you may also notice that the light surrounding the figure recalls many images of Jesus that have been created for hundreds of years. In this way, we proudly reaffirm our Christian roots and mission.
Not changing quite yet
While we will soon be AbleLight, we are not there yet. The legal name change will take place on January 10, 2022 and there is a lot of work for our team to complete before that happens. Until then you'll begin seeing our name pop up in a few places, including our website and social media channels. As our name changes, it's important to reflect on what's not changing. We are here to serve the disability community through our Christian mission. We are the same people serving the same needs. While we will look and feel a bit different going forward, the mission continues, stronger than ever!