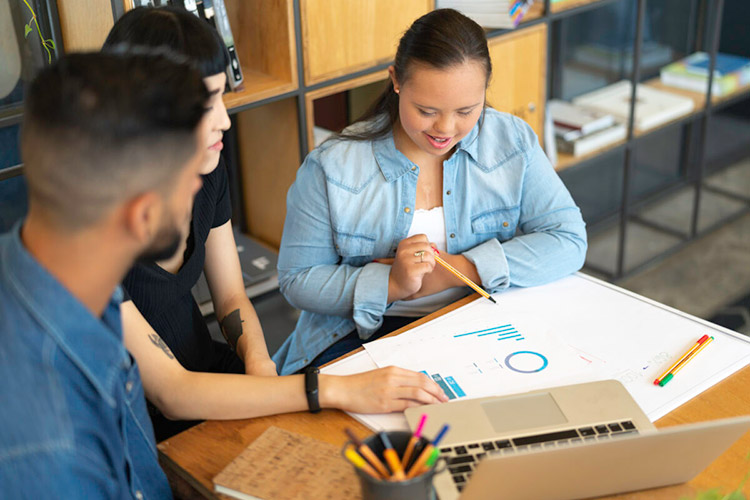 Financial Services
AbleLight provides a variety of financial services to help the people we serve navigate their finances.
Pointing the way toward a healthier financial future for people with disabilities.
At AbleLight, we know people with intellectual and developmental disabilities want and deserve financial freedom just like anyone else. And we know all too well the challenges that come along with that.
That's why we're taking action.
Services offered
Representative Payee Services
People who cannot manage their own money can appoint AbleLight to receive their Social Security or Supplemental Security Income (SSI) payments. As representative payee, AbleLight would be responsible for making payments for current needs, saving for future needs, and keeping up-to-date accounting ledgers.
Medicaid Redeterminations
People who receive Medicaid must report their income and other household information on an annual basis to determine whether they continue to be eligible for benefits. AbleLight proactively provides the information to ensure accuracy and avoid gaps in benefits.
Social Security Reporting
Like Medicaid redeterminations, the Social Security Administration (SSA) periodically reviews a person's SSI eligibility to ensure they're still eligible and receiving the correct amount. AbleLight provides information proactively or by request to ensure accuracy and avoid gaps in benefits.
Member Financial Reviews
AbleLight conducts reviews with members on an annual basis (or more frequently upon request) to discuss income, expenses, assets, personal needs and financial goals to help the member stay on track and ensure we're working toward their goals.
Limited Power of Attorney (POA) for ABLE Accounts
ABLE accounts were created from the Achieving a Better Life Experience Act of 2014. They are tax-advantaged accounts for people with disabilities that allow them to save without impacting SSI or Medicaid eligibility. Limited POA allows AbleLight to open and manage ABLE accounts on behalf of members.
ABLE Account Training
AbleLight can provide state-specific training to help our local operations teams, members, and parents/guardians understand and manage their ABLE accounts.
Financial Literacy Classes
AbleLight hosts weekly classes to help members learn and better understand money management, including developing a budget, saving for the future and when and how to borrow money.