Meet Jenni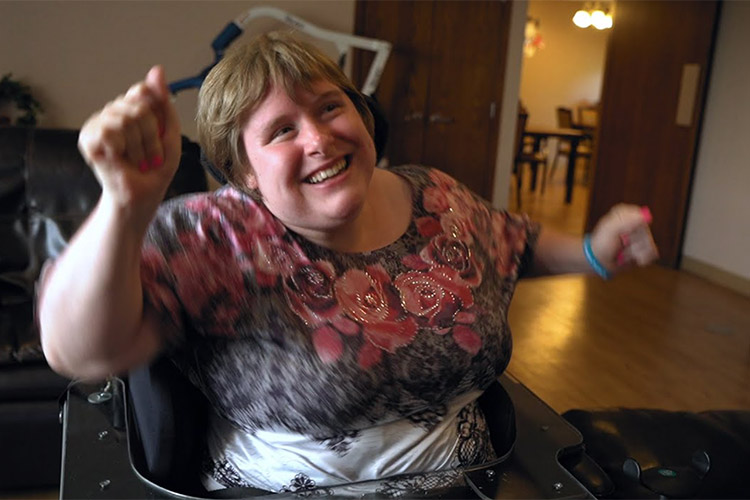 A Social Butterfly
Imagine living in a home where most of your day is spent in your room by yourself with nobody to talk to. Where you don't have opportunities to get out into the world. Where all the gifts you have to share are going to waste.
That was Jenni's life—or at least it was before she came to AbleLight. She had lived in group homes with two other providers in Minnesota, but they just weren't the right fit for her. There was a lot of staff turnover. She was often left alone in her room. And the homes didn't have the vehicles needed to take Jenni, who uses a wheelchair, out into the community.
But Jenni thrives on being social, on spending time with friends and family, and being able to help others. And she's not afraid to speak up for what she wants. So when she heard about the AbleLight group home in Coon Rapids, Minnesota, she immediately knew she wanted to check it out.
Tawnya Arueya, Area Director, remembers when Jenni first toured the home. "When she came here and met everybody, she said, 'Yep. This is where I want to move. When can I move in?' She was very excited."
In her new safe and loving home, Jenni has more freedom. She was able to choose her roommate, someone she already knew from her job. She loves her housemates and the staff, often treating them to trips to the movie theater her grandfather owns. When AbleLight needed to buy a new lift to help transfer Jenni from her wheelchair, they had two companies bring devices in so Jenni could try them and pick the one she liked best.
Jenni is also always looking for opportunities to give back and help others feel included. Like with Sammi, a young woman who recently moved into the home.
"She just sits with her and talks with her, and that's what it's about. Talking to somebody and making them feel included," says JoAnn, a Direct Support Professional in Jenni's home.
"I kinda took her under my wing," Jenni says. "This is her first group home. It feels very good to be able to help her out."
Watching them together, it's impossible to miss the special relationship the two of them share. At first, Sammi is reserved, saying very little and observing the world passively through wide blue eyes. But with Jenni's patience and attentiveness, Sammi transforms into a vibrant, fun-loving woman whose infectious laugh rings throughout the house.
"I try to help as many people as I can," Jenni says. "My wheelchair's not going to stop me. Even though I'm in the chair, I don't use that against my capabilities."
Tawnya says Jenni loves her home so much, she's taken to recruiting others to come to the Coon Rapids home.
"She's referred employees from her former group home," laughs Tawnya. "And she's referred individuals to move in here. We've met people from the other group home and Jenni tells them, 'You're going to like it way better here.' "
"I just want others to know about AbleLight," Jenni says. "I love it here. I feel more myself here."
When asked her favorite thing about AbleLight, Jenni's answer says it all: "Everything," she says. "My favorite thing about AbleLight is everything."