What is AbleLight College?
AbleLight College is a unique two-year certificate program designed to meet the higher education goals of students with developmental disabilities. The goal of the program is to prepare students to take their place in the larger community as independent adults who live an integrated, purposeful life while contributing to their community.

AbleLight College partners with a growing network of private universities to create an authentic college experience for our students. The program offers inclusive academics, career preparation, community, campus life, and more.
What's new this year?
New campus
AbleLight College provides students with disabilities the opportunity to turn their dreams of a college education into a reality – and we are so excited to kick off the new school year at a second campus! We recently expanded to Concordia University Ann Arbor in Ann Arbor, Michigan, and the 2022-23 school year will be our first on this campus.
New team + curriculum
In May 2022, Stephanie O'Connor became the Senior Director of Education and Transition Services at AbleLight. Stephanie comes to us after years of experience in Milwaukee Public Schools as the Manager of the School to Work Transition Programs for the district. She has a deep background and understanding of special education, school administration, and assistive technology. We are thrilled to have her on our team and can't wait to see what she'll bring to the program!
One of Stephanie's early goals was to clearly define the educational framework that AbleLight College is built upon, and her team has worked hard over the summer to revamp the AbleLight College curriculum. The new framework is based on the Universal Design for Learning (UDL) and connected to 21st Century Skills and a person-centered planning approach to reaching individuals goals and desired outcomes both short and long term.
UDL is a framework that provides flexibility for the way students are engaged, the way information is presented, and the way that students can demonstrate their understanding of a subject. "This new framework is designed to align with all parts of the college experience – classroom instruction, social and community engagement, and employment experiences," said Stephanie. "We're helping our students build a strong recognition of their own talents, desires, and dreams!"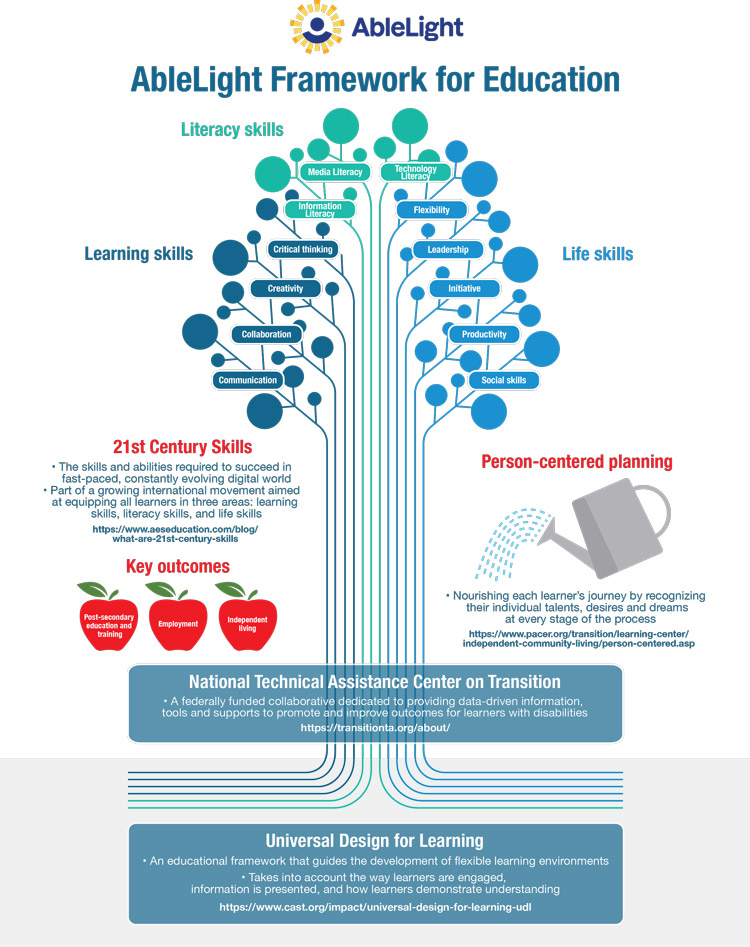 The Education and Transition Services team has also been working hard to expand employment experiences for AbleLight College students both on and off campus. This includes a new partnership with the AbleLight Development team, where students will have the opportunity to be a part of our stewardship efforts.
Sensory room
We are also excited to unveil a brand-new sensory room at AbleLight College CUW! A sensory room is a therapeutic space with equipment that can help students self-regulate so they can stay calm, focused, and ready for learning and socializing. With support from Concordia University, we have put together a sensory room that has value for the whole student body.
The sensory room is fully equipped with fidgets, comfortable seating, customizable light settings, a swing chair, a constellation projector, calming images, and more. The room is designed in a way that allows for the visual effects to be altered and customized to everyone's individual needs. Currently, the room is only available for AbleLight College students – but soon it will be accessible for all students at CUW."This project is targeting the needs of all students on campus. We are all sensory beings, and we are offering a space and a set of tools to help all students regulate," said Stephanie.
This project has been a true collaborative effort between AbleLight College and the Department of Residence Life at CUW, and we are so grateful for their partnership!
Learn more and apply
Applications for the 2023-24 school year are accepted on a rolling basis! Learn more or fill out an application on our website.
Check out AbleLight College at CUW and AbleLight College – Ann Arbor on Facebook!