Unemployment. It is one of the biggest challenges facing people with intellectual and developmental disabilities in the United States today. In fact, only 16% of people with developmental disabilities have paid, integrated employment.
Many people with disabilities are employed in segregated work centers. While beneficial for some, many others may benefit from an opportunity to work in an integrated job in their communities. And it's not only the employees who benefit. Companies who employ people with intellectual disabilities reap the benefits as well. Here are the facts about employment for people with disabilities today and how integrated community employment benefits everyone involved.
The benefits of integrated employment for people with disabilities
Year after year, statistics show that unemployment is one of the major issues affecting people with intellectual and developmental disabilities in the United States. The U.S. Bureau of Labor Statistics reports that the percentage of people with disabilities in the work force is only of third of those who do not have a disability.
In 2019, the number of working age people with disabilities in the United States is around 20 million. However, only about 7.5 million of those people have been able to find employment. Clearly, the unemployment crisis for people with disabilities is real.
Companies see benefits of hiring workers with disabilities
According to a recent study, companies who actively employ people with disabilities are more profitable than those who don't. 28% more profitable, in fact. The include companies like like Bank of America, which recently hired 300 people with intellectual disabilities to create a customer support team, and companies like Microsoft, which has implemented a hiring and training program aimed at supporting people with autism.
How we help people with disabilities find employment
AbleLight is dedicated to ensuring that every person who has a developmental disability who wants to be employed can have that opportunity. Today, thanks to AbleLight's employment supports, over 400 people have found paid, integrated community employment. Chelsea is one of those people.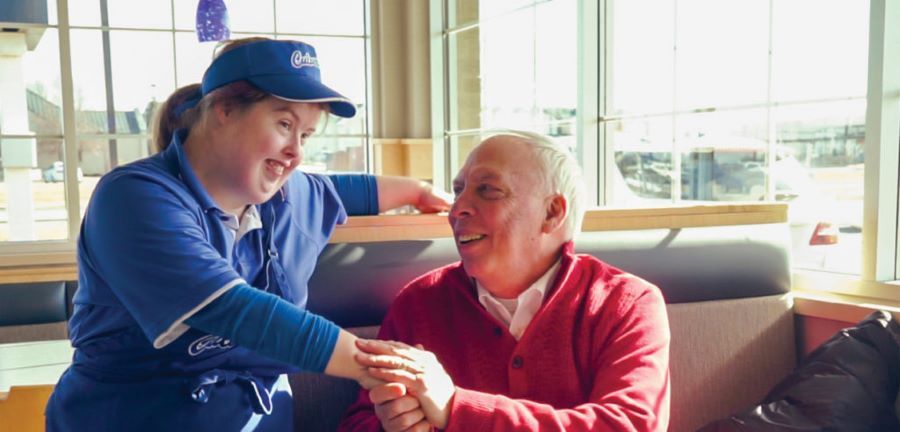 Chelsea has Down Syndrome and before she found her dream job, she was employed at a segregated work center for people with disabilities. "I used to work at a work center for kids with disabilities putting cans in boxes every day," Chelsea says. "I just wanted to get myself out of that place." Chelsea has a fun loving, bubbly personality and employment in a work center did not allow her to socialize. Now, thanks to her AbleLight job coach, Chelsea works at Culver's and is learning new skills every day.
While employment may not be an option for some people with intellectual or developmental disabilities, there are many people who could benefit greatly from integrated community employment. And as recent studies have shown, their employers benefit too. That's why AbleLight is committed to helping people with disabilities find paid, integrated employment. To learn more about employment supports from AbleLight, visit our Employment Supports page.
---