Beyond High School: Prepping for Life as a College Student
Whether you're looking at colleges for yourself or helping a loved one choose a program, this free webinar from AbleLight College will help you learn how you can choose the right college program.
Access the webinar replay
Dreaming of going to college when you finish your time in high school? College is a huge step toward independence for all students. For students with intellectual and developmental disabilities, preparing for successful college days may require a few extra considerations to ensure a smooth transition.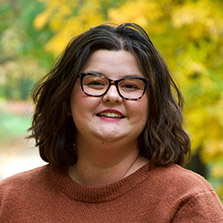 Presented by:
Angela Post,
MA, BCBA, LBA
Director of Admissions
AbleLight College Ann Arbor
During this 30-minute webinar, hear from AbleLight College instructors who have worked with many students starting college life. Drawing on that knowledge, they'll share advice to help high schoolers build the independence and confidence they'll need to navigate the social, academic and emotional aspects of stepping onto a college campus for the first time.
Please fill out the form below to sign up for this free webinar.